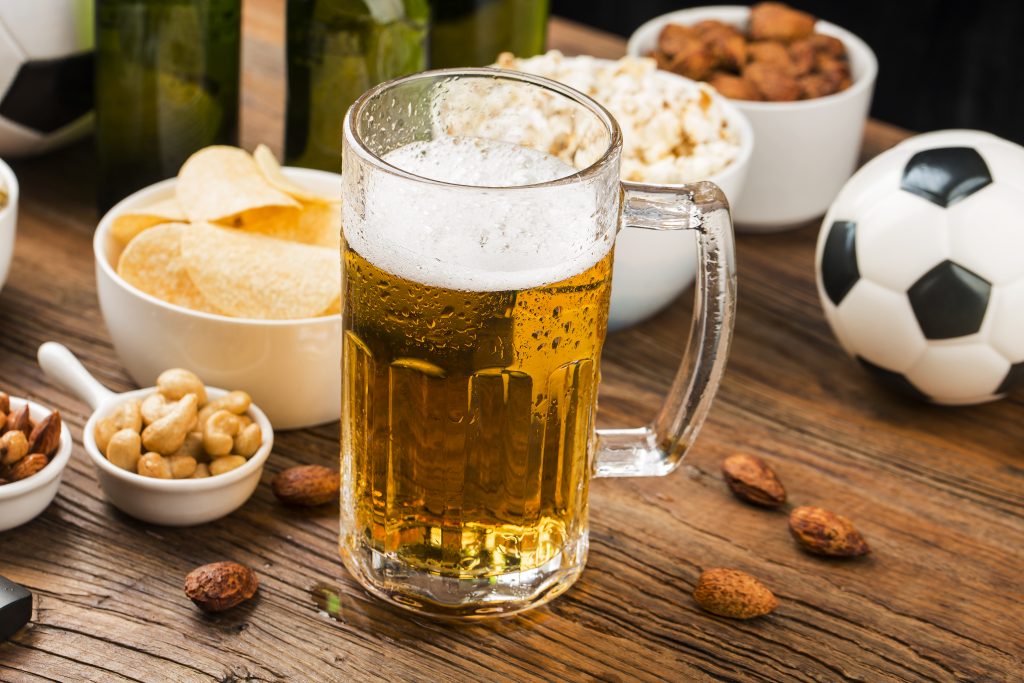 Going to a sports bar is an excellent way to socialise all the while watching your favourite sport. It's one of the simple pleasures in life and a great way to unload after a long day at the office. But finding the perfect place in cluttered and expensive NYC is hard. It needs to have the right atmosphere, and we're not just talking about looks here. Service is extremely important, and we all know the right bartender can make or break a bar experience. Of course, it wouldn't be a great sports bar without an equally impressive drink and food menu. So based on these criteria, take a look at the best sports bars in NYC, no matter what sport you like the most:
Best Irish Bar – The Irish American, FiDi
It wouldn't feel right to start this piece with anything other than an Irish Bar. If you're craving a pint of Guinness and a delicious Shepherd's pie, while kicking back at a genuine Irish sport bar then the Irish American is the place to go. Just head to the Financial District to find this Irish gem. The place might be cosy, but that doesn't mean it lacks seating – quite the opposite. Kick back at any of their themed areas, namely the Irish American Room, Shebeen, and Colony Cocktail room. Oh, and did we mention they also have a game room where you can play pool, ping pong, and even foosball! To top it all off, you can enjoy their fantastic food up until 1 AM! What's not to like?
Location: 17 John Street
Best Billiard Bar – Break Bar & Billiards, Astoria
So you want to watch sports, but you also want to participate in them? Then visiting Break Bar and Billiards in Astoria, Queens is the right decision. What's so special about another billiard bar, you might think? This 7.000 square venue is more than a sports bar – it's an entertainment venue that offers numerous activities: from billiard and darts to ping pong and vintage arcades. That's not all, of course! You can also play foosball, hoops, and giant JENGA! But what about sports? No matter what sport you like, you can watch the latest game premiers on one of the sixteen HD TVs or the two giant projectors.
Location: 32-04 Broadway, Astoria, Queens
Best Sports Bar with a View – Industry Kitchen, South Street Seaport
With the warm weather finally here we all want to find the best outdoor sports bars NYC. Industry Kitchen is located along the East River, near the famous South Street Seaport, and is only a few feet away from the water's edge. With indoor and outdoor seating, the spectacular 5,000 square-foot venue can host up to 300 guests while providing breathtaking views of the Brooklyn and Williamsburg Bridges as well as the Brooklyn Skyline. Industry Kitchen serves modern American cuisine centred on seasonal market goods and simply prepared dishes familiar to New Yorkers, such as salads and wood-oven grilled meats, and pizza. It's definitely a step up from a regular sports bar, and the large TVs make it the perfect outdoor venue to visit for a game night!
Location: 70 South Street At Maiden Lane
Best Chelsea Sports Bar – Smithfield Hall NYC
One of the best sports bars in Chelsea NYC is Smithfield Hall. If you are looking for a hybrid between a sports bar and a restaurant, where you can get small bites alongside fantastic cocktails, stop looking! Smithfield Hall is the place to be. When it comes to watching sports, Smithfield Hall certainly holds the top place in terms of viewing pleasure. With a total of 34 TVs, you are bound to have an excellent seat even during the busiest sports season.
Location: 138 W 25th Street
The Best Sports Bar with Outdoor Seating – The Three Monkeys Bar
When it comes to the best sports bars in NYC 2022 we have to mention The Three Monkeys Bar. This is the New England Patriots pub and beer garden, so we are talking serious business here. You will not only have a great time watching your favourite games in one of the best NYC sports bars, but you can also go for a beer tasting, too! Enjoy their swoon-worthy (especially after a few) collection of craft beers and try to find your favourite among the 36 they have on draft! We almost placed them in the best outdoor sports bars NYC category too, credit to their charming terrace – the stage for their one-of-a-kind comedy nights!
Location: 236 West 54 Street Between Broadway & 8 Ave
The Best Sports Bar in Queens – The Seneca
Nestled inside a converted auto garage right in the heart of Queens, this iconic bar is a product by the sons of Lon Ballinger, the founder of Webster Hall. You can indulge in local and imported draft beer, as well as some excellent bar dishes and as The Seneca claim – the best burgers in NYC. There is only one way to find out if that's true!
Location: 582 Seneca Ave, Ridgewood
The Best Sports Bar in Midtown NYC – The Junction
Grand Central commuters will all agree – when it comes to the best sports bars in midtown NYC, you certainly need to pay the Junction a visit. Not just for the great atmosphere and sports games, but also for the incredible food deals. Every day is some sort of celebration at Junction – from their Taco Tuesdays to their Free Beer Fridays, you are bound to have a great time at this classic NYC bar – without breaking the bank.
We hope you enjoyed our roundup of the best NYC sports bars! Did we manage to strike one of your favourites?