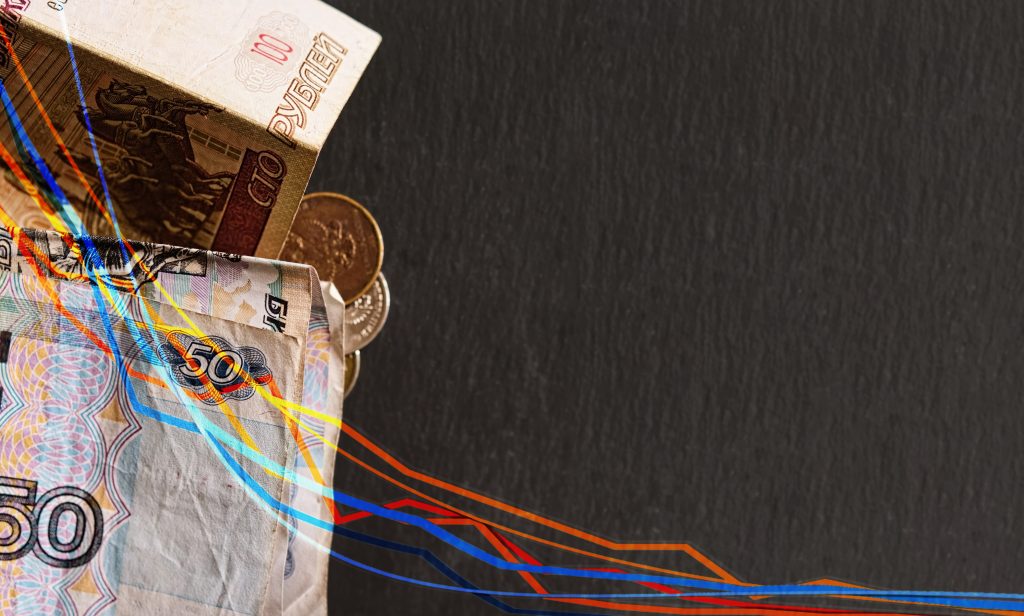 According to the Russian economy news and trade analysts, Russia's economy is failing as exports to the sanctioned country plunge in the face of President Vladimir Putin's unprovoked conflict in Ukraine.
"Economy is imploding. We forecast a GDP collapse of -30% by end of 2022," – those are the words part of a tweet by Robin Brooks, the Institute of International Finance's senior economist.
On Sunday Brooks said that the data gathered with the assistance of Jonathan Pingle, an IIF researcher, states that the exports from 20 nations to Russia were down 50% in April, in comparison to the same month last year.
On the other hand, monthly exports from Russia to other nations increased by 64% in April, compared to the same month last year. According to Brooks, oil and gas sales are becoming a bigger part of Moscow's income.
Additionally, Russia's central bank announced a flurry of steps to boost domestic markets as it hurried to deal with the aftermath of the tough Western sanctions imposed in response to Moscow's invasion of Ukraine.
The central bank announced that it would resume gold purchases on the domestic market, establish a no-limit repurchase auction, and relax limitations on banks' open foreign currency positions. The central bank also expanded on the various securities that could be used as collateral for loans and instructed market participants to reject foreign clients' offers to sell Russian stocks.

The bank has also stated that it would continuously monitor any modifications in the currency positions, "in order to guarantee the normal functioning of the currency and money markets and the financial stability of lending institutions".

Additionally, the US Treasury's issued a waiver enabling Russia to transfer payments for its foreign bonds, regardless of the Western sanctions, which expired on the 25th of May. This has set to leave Moscow in the face of an inevitable economic crash.
The Russia economy collapse has prompted the country to come up with alternative measures to keep its economy afloat while being on the blacklist of the euro market, and officially unable to make payments in US dollars.
As a result, Russia prioritised creating a "digital" rouble. Bank Chief Elvira Nabiullina has stated that Russia plans on releasing the currency to real customers and real banking transactions as soon as April 2023, which is way earlier than the plan stated in their original agenda.
How would this help the Russia economy ranking? A digital currency would allow Russia to pursue its domestic and international payments, despite the sanctions currently stalling the country's connection to the international banking system.
The acceptance of this digital currency as an international payment method will depend on the countries' willingness to accept a conversion into dollars. There is also speculation that Russia could use the digital rouble to steal digital currency in an attempt to re-surface from the effect of the Western sanctions through hacking techniques such as ransomware, which has already occurred in North Korea several times.
However, the main concern for Western countries is that Russia may successfully set its digital currency in motion. In the instance that the digital rouble picks up, the Western sanctions' tight grapple may lose its power over Moscow, leaving the West with one less method of influencing Kremlin's actions.
There is some evidence that Russia might be keener on accepting cryptocurrencies as a legal means of payment. This is a massive change of views for Russia, which expressed its concerns that cryptocurrencies may be exploited by terrorist operations or for money laundering.
Cryptocurrency might turn into Russia's safety net and aid them in bypassing all the obstacles the Western Allies have imposed in the recent months. There are some unverified reports that have stated that Russians own more than €200 billion in cryptocurrencies.
Russia economy ranking eleventh largest in 2020, and fifth largest in 2021 by nominal GDP, feels little economic pain right now, but that is not to say its future looks brighter.

Officials in Russia claim that the economy is doing well. On the 26th of May, the central bank dropped interest rates by three percentage points to 11%, and it expects to lower its inflation forecast for this year from its current estimate of 18-23 percent.
The rouble has surged as a result of capital controls and instructions for exporters to sell half of their hard currency earnings and is now stronger than it was before Russia dispatched its armed forces into Ukraine on February 24.
Although Russia has stopped releasing most financial data, numbers calculated by the Bank of Finland based on local customs data show a drop in imports – not just from the West.
In April, Chinese exports to Russia fell by a fifth, while shipments from Vietnam, Malaysia, Taiwan, and South Korea were reduced by half.
The strong rouble has already lowered weekly inflation, but it won't be enough to counteract a bigger danger to economic growth posed by Russia's growing isolation. According to the economy minister, Russia has already delved into its National Wealth Fund, which has around $110 billion in liquid assets, to sustain spending, which has gone up 22% this year.
In 2022, Morgan Stanley economists predict a 13% reduction in household spending and a 23% drop in investment.

Alina Slyusarchuk, the European Bank for Reconstruction and Development's senior regional economist, wrote in a note that Russia's prospective long-term growth rate is now below 1%. The picture for smaller Russian enterprises appears to be bleak, though it's difficult to say for sure because official data is so difficult to obtain, and businesses are no longer obligated to report.
Many Russians, on the other hand, are no strangers to survival mode, having lived through several major crises since the Soviet Union fell apart in 1991. Russia economy today might not be expecting a much brighter future.